M5 - Multiple styli holder - Titanium, adjustable, mountable to TP M5 MES SO 001
This versatile holder designed to mount to a 15 mm Cube such as that found on Zeiss MT/Vast adapter plates. Made of high-grade titanium, the precision-machined holder provides outstanding rigidity to support robust configurations containing multiple styli to reduce measurement cycle time.
Available in three lengths:
*Does not include adapter plate or styli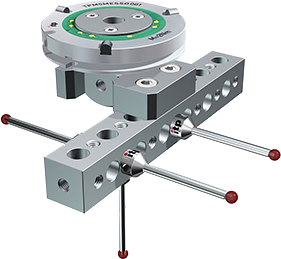 Multi-Styli holder with MT/Vast Adapter plate and styli (Plate and styli not included).