!— Windows 8.1 + IE11 and above —>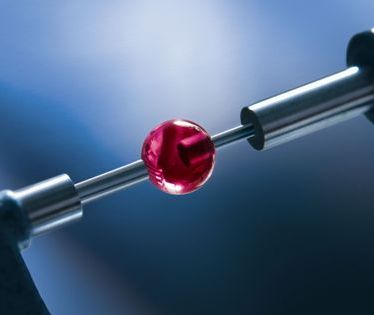 We offer a large selection of probe spheres in a variety of materials and sizes. We can drill blind holes into probe spheres with a diameter as small as 0.5 mm.
At itp, we believe the only ones arguing about the best mounting methods are those who cannot offer a choice to their customers. Because we have the capacity to drill holes into probe spheres made of highly resistant materials, the customer can decide what mounting method works best for them.
To learn more visit our page about the Drilling of Spheres.
itpstyli probe spheres are peg mounted; from an engineering perspective, this offers the best stability and maximizes the gluing surface. In order to achieve a long-term fixation, we use special gluing methods in combination with our own, specially developed and tested glue curing technology, which is used in our climate-controlled labs. The results are great stability and durability.
To learn more visit our page about Mounting and Gluing Styli.
itpstyli not only offers an extensive range of standard styli, but also offers the Design Your Own styli option where you can create a custom stylus that fits your specific application.